Thanksgiving Food Drive
Thanksgiving Food Drive
Sunday, November 5, 2017

Important: This event has already occurred.

310 Perehudoff Crescent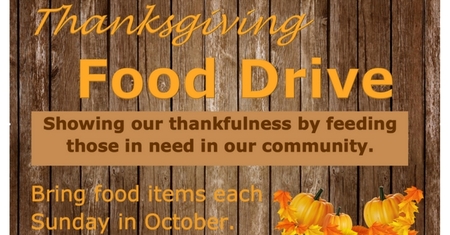 For the month of October we will be collecting food items to meet the many requests for food within our immediate surrounding community and EAC Family. The food will be made into hampers and distributed.
Please visit the drop off station in the East Foyer to pick up an item reminder slip.
Last year we were able to make up 6 complete hampers. It would be great if we could get to 10 hampers this year.
Frequetly Asked Questions??
Does the food go to the foodbank?
No, the food will be given to people that have contacted the Deacons committee with a need.
How do I help with this initiative?
Please contact the Deacons committee or the Church Office.
What if I just want to give money?
Once a month there is a benevolent offering taken after the communion service.
Can I bring food items that are not on the reminder slips?
Yes, but please remember that they need to be non-perishable.
Can I bring food items that are past the "best before date"?
No, we would prefer to bless people in need with items within the best before date.
Ministry Sundays
Return to Events
---